Description
Off Centered Heavy Cartridge Grip v.2 by Dan Kubin
Designed by Dan Kubin for the Sidewinder and the Swingliner V2, this heavy (280g) tattoo machine Grip made from solid Brass is off centered and designed especially for Cartridges. Version 2 has been re-engineered to Fit All Cartridges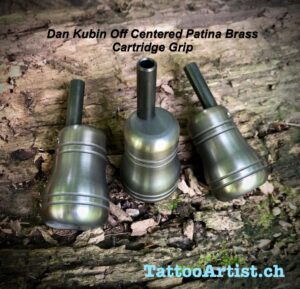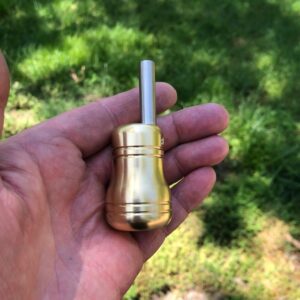 Diameter: 32mm
Weight: 280g
Includes Back Stem & 85mm Plunger
Dan Kubin is constantly working on new projects, his innovative ideas and design compliment every product that he produces.
Wir stellen den neuen "Dan Kubin v2 Off Center Brass Grip for Cartridges" vor
Dieser von Dan Kubin für den Sidewinder und den Swingliner V2 entworfene schwere (280 g) Tattoomaschinengriff aus massivem Messing ist außermittig und speziell für Cartridges konzipiert. Version 2 wurde überarbeitet, um für alle Patronen geeignet zu sein.
Dan Kubin Messing Patronengriff v2
Durchmesser: 32mm
Gewicht: 280 g
Inklusive hinterem Vorbau und 85-mm-Kolbenstange