Happy Brass Monkey Tattoo Machine Screws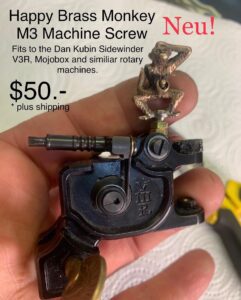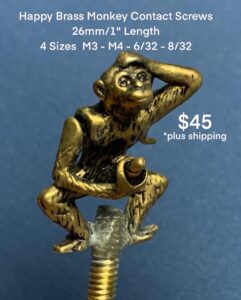 🚨Add Some Mojo To Your Tattoo Machine!🚨
New!
The "M3 Happy Brass Monkey Machine Screw",
fits many rotary tattoo machines implementing a 6mm M3 screw. The M3 Happy Brass Monkey fits to the Dan Kubin Sidewinder V3R, Mojobox and similiar rotary machines.
Our Happy Brass Monkey is mounted on a 10mm Brass screw and includes two (2) M3 nuts 😉 to tighten your Monkey down for adjustable positioning without any impact on machine performance.
*All monkeys guaranteed to provide many years of enjoyment for everyone.
👉Available for Coil Machines in 4 Sizes! 6/32 – 8/32 – M3 – M4
🎄 🎁 Makes A Great Christmas Present!!!
To place an order follow this link;👉
https://tattooartist.ch/product-category/tattoo-machine-parts/
Der "M3 Happy Brass Monkey" passt auf viele Rotary-Tattoo-Maschinen, die eine 6-mm-M3-Schraube verwenden. Zum Beispiel Der M3 Happy Brass Monkey passt auf die Dan Kubin Sidewinder V3R, Mojobox und ähnliche Rotary Maschinen.
Unser Happy Brass Monkey ist auf einer 10-mm-Messingschraube montiert und enthält zwei (2) M3-Mutter, mit der Sie Ihren Monkey für eine einstellbare Positionierung festziehen können, ohne die Maschinenleistung zu beeinträchtigen.
Auch für Spulenmaschinen in 4 Größen erhältlich!
👉 ist auch ein tolles Weihnachtsgeschenk für einen Tätowierer
* Maschine nicht enthalten 😉
Frage?
TattooArtist.ch@gmail.com
View The YouTube Video
#dankubinmachines #v3rsidewinder #mojobox #dankubinrotary #dankubinsidewinder #coiltattoomachine #tattoomachineparts #tattoomachine #tattoomachinecontactscrew #tattoomachinescrew #tattoomachinesforsale #tattoomaschine #tattoomachineporn #tattoomachinecollection #tattoomachinebuilder #workhorseirons #partsfortattoomachines #rotarytattoomachine #rotarytattoomachines #rotarytattoo #rotarytattoomachinescustom #madeinswitzerland🇨🇭 #madeinswitzerland #tattooproducts