Description
Course: Learn How To Make Tattooing Needles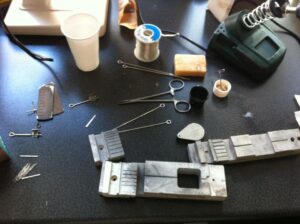 Making your own tattoo needle groups, soldering them onto needle bars was a regular job for every tattoo artist before 1990. With the introduction of premade, sterile, packaged needles the art of making tattooing needles was lost.
Today, worldwide over 70% of pre-made needles for tattooing are manufactured in China and made by machine. Insuring no standard quality, each and every needle needs to be inspected before you start tattooing.
Having the knowledge and ability to make your own needles for tattooing, carrying on a centuries old tradition is an integral part of being a respected tattoo artist amongst your peers.
This course is designed to teach you step by step how to make needle groups for lining and three different types of needle groups for shading, loose round, flat and magnums.
Tattooing Needles
I will teach you the history of tattoo needles,   the difference between long tapered, medium tapered and short tapered stainless steel needles their intended use for each aspect of tattooing.
Jigs For Making Tattoo Needles
There are many methods to make needle groupings, from homemade jigs to professional needle jigs. This course will teach you everything you will need to know about Tattoo Needle Jigs. Needle grouping jigs and needle bar jigs are essential tools for making quality tattooing needles and there are many tips and tricks to know before you are able to do it right. You will get hands on experience using different types and styles of jigs used for needle grouping and needle bar assembly.
Tools & Materials
In depth explanation and discussion about using the correct Solder, which Soldering Iron is required, Which Liquid Flux, Why and how we put to use Bicarbonate, Soldering Iron Safety and how to set up your Working Area to avoid accidents. This is an important part of my instruction on needle making, and will help you to be proficient with your newly learnt skills.
Cleaning, Packaging & Sterilizing
After you have made your needles and have soldered them onto needle bars, you will need to clean them, inspect with a jewelers magnifying glass, package them and sterilize them before you can use them. You will be taught about the needed materials used, equipment, different methods of cleaning, control and proper sterilization.
With 40 years of experience professionally tattooing, I am very passionate about keeping this tattoo tradition alive passing on my Knowledge, Tips & Tricks to help you tattoo better and understand your needles.
Length of Course: 5 Hours
Location: Basel
Dates: To Be Announced
2-4 Participants: Minimum 2 Tattoo Artists per course,  Group maximum 4
Requirements: 
Pre Registration Required
Register now to participate for the next tattoo artist course in making needles instructed by Dave Holm. Dates of the course are organized once there are at least 2 individuals registered to participate.
Professional Tattoo Artist Workshop