Description
Dan Kubin Tattoo Machine
SWINGLINER V2.1
Weathered Black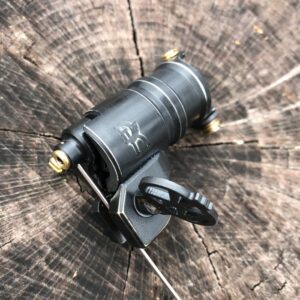 Introducing the Remastered Swingliner tattoo machine by Dan Kubin!
*v2.1: Now using a swiveling ball joint to secure the plunger bar. Makes for snipping your desired plunger that matches your grip much easier. The added weight of the brass also gives a little more thump! (We recommend cutting a new plunger bar to 3"-3-1/8" (76-80mm))
Expect more performance, reliability, and ergonomics as compared to the V1, this is a really nice tattoo machine for lining if you are using cartridges.
Like its predecessor, the polarity of the clipcord determines if the hit is harder or softer. The difference being that the hit is now much crispier and precise. It has a nice give to it to accompany the crispy punch, making for a very efficient yet non-invasive hit. Try it out and switch over positive & negative.
The Ergonomics have been greatly increased by lowering the center of gravity, and shifting the mass to the front of the machine.
Since the first incarnation of the Swingliner, followed by the DMC, Dan Kubin learned many tricks and much more about the unique cam concept to bring you the most dependable, simple to use, high performance cartridge machine yet!
No nipples, no rubber bands, no tuning, no bullshit.
weight: approx. 4oz/110 grams