Description
Adjustable Stainless Steel Tattoo Machine Grip for Cartridges
32mm – High Quality – Stainless Steel – Precision Machined – Checkered Non Slip Grip
Designed for the Tattooer that has switched over to Cartridge Needles, these have 20 depth settings, completely adjustable length.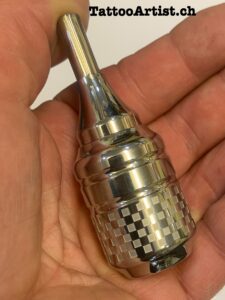 Checkered Non Slip Grip
Made from high quality 316 L Stainless Steel, milled to perfection, designed for comfort.  One of the Best Tattoo Machine Grip for Cartridges currently on the market. Three (3) different length Cartridge Plungers are included.
316 L Stainless Steel
Checkered Super Grip Style
Precision Machining
Ergonomically Designed No Slip Checkered Grip
Adjustable Length
20 Depth Settings