Description
1990 Micky Sharpz Hybrid Tattoo Machine – Nickel Plated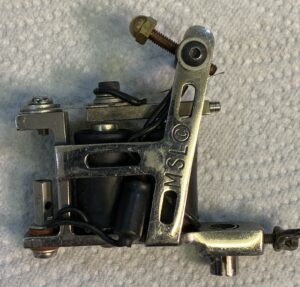 Original Owner – 1990 Micky Sharpz Hybrid Tattoo Machine – Nickel Plated
Made personally by Micky Sharpz in 1990, this classic tattoo machine was made in Birmingham, England.
Guarantee Of Authenticity
I have had a long friendship and many good times with Micky Sharpz between the years1985 – 2000. I spent many hours getting tattooed by him, ingested & retained hours & hours of machine building, construction particulars about metals & casting, tattoo machine tuning plus all the knowledge & secrets Micky shared.
To this day… I also keep in close contact to both Steve Hartnoll & Richard Pearson, two top notch tattoo artists both of whom worked for and were apprenticed by Mick in the Sparkhill tattoo studio.
Unfortunately the original certificate for this machine and many other Micky Sharpz tattoo  machines were destroyed along with $100`000 worth of original artwork, flash, paper goods, etc. in my studio disaster.
The tattoo machine in this auction was bought direct from Micky Sharpz in Sparkhill-Birmingham, England.
*1 owner
*100% original unless noted otherwise here; Original, Contact screw change
*Original replaced parts included; Old contact screw